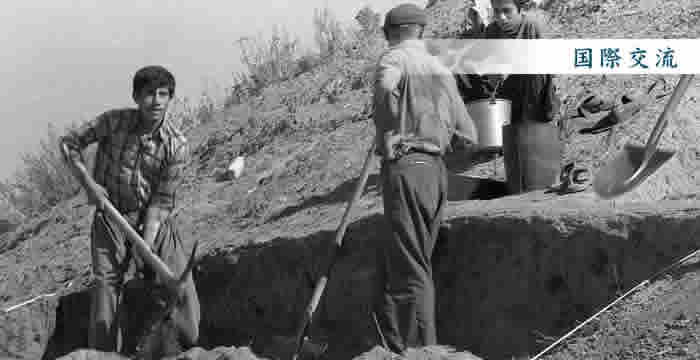 国際交流
The Specific Expedition to the Gorgan Plain in Iran during 1970's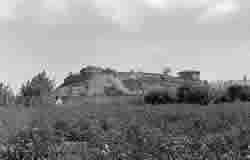 Tappeh Hoseynābād, northern Iran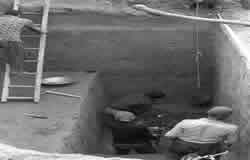 Excavation at Tappeh Hoseynābād, northern Iran

  In 1971, the archaeological department of Hiroshima University organized "the Hiroshima University Specific Expedition to Iran" in order to make clear the spread of early agriculture from West Asia to East Asia. This Investigation identified more than 200 archaeological sites in the northern part of Iran, especially in the Gorgan Plain near the Caspian Sea, in 1971, 1974, 1976.
  In 1971, Professor H. Matsuzaki started the archaeological investigation in the northern part of Iran. Because he estimated that this area could have been a corridor of early agricultures toward the eastern Eurasian world. He carried out the first survey for three months, from Oct. to Nov. in 1971. They went around representative sites from Gilan to Khorasan. In this season, they did also a sondage at the west tepe of Tappeh Sang-i Chaxmaq, near Bastam village in Semnan. As a result, they found a well-preserved early Neolithic settlement dated to PPNB at the site.
  The second expedition directed by Professor H. Shiomi lasted three months, from Oct. to Dec. in 1974. The purpose of this season was general reconnaissance for producing comprehensive site map of the Gorgan plain. They surveyed approximately 2000㎢ area in the western part of Gorgan and they registered 112sites. During this season, they also did the sondage at Tappeh Anjirāb and Tappeh Gorbag.
  The third expedition, directed again by professor Shiomi, was carried out in the Gorgan Plain fir three months, from Oct. to Dec. in 1976. They found 112 sites from the dange of 2000 ㎢ in the aeastern part of Gorgan Plain, In this season, they did a sondage at Tappeh Hoseynābād (See the upper photo).
  During these three expeditions, the Hiroshima University Scientific Expedition gained more than 20,000 of pottery shards, stone tools, and other archaeological materials from surveyed sites and excavated sites as Tappeh Sang-i Chaxmaq, Tappeh Anjirāb, and Tappeh Hoseynābād. Among these materials, a half of them collected in 1971 and 1974 were brought to Japan and have been kept in Hiroshima University, The other collection in 1976 have been kept in the National Museum of Iran.
  However, unfortunately most of them had not yet been published. We have started the material studies for publishing them since 2010. We have begun to study the material of the third season kept in the National Museum in Teheran, especially those material unearthed from Tappeh Hoseynābād. Consequently, We conclude that the site is very important for considering the Bronze Age in this area, because stratigraphic survey of the site at that time give us many important new knowledge in detail about social evolution.
Exchanges with University of Tübingen, Germany Concerning Collaborations on Early Burial Mounds and Landscape Archeology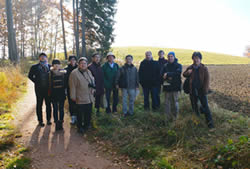 Excursion to Hallstatt period Magdalenenberg burial mound (104m), Villingen, southwest Germany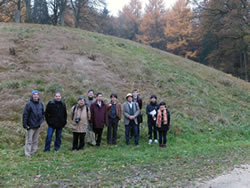 Excursion to the Hallstatt period Hohmichele burial mound (85m), Altheim southwest Germany

  Professors W. Steinhaus and H. Nojima participated in an international workshop (4–6.Nov.2015) on [Burial Mounds in Europe and Japan – Comparative and Contextual Perspectives] at the University of Tübingen, Germany sponsored by University of Tübingen, German Research Foundation (DFG), Osaka University, Sainsbury Institute for the Study of Japanese Arts and Cultures.
  The workshop explored mounded tomb building in Europe and on the Japanese Islands in a comparative context. The main focus was on the development of social hierarchies and the relation to settlements. The workshop brought together for the first time specialists of European prehistory from Germany, England and Suisse, and leading experts of the Japanese Yayoi and Kofun period. This event was organized among others by Werner Steinhaus.
  Steinhaus spoke on [Mounded Tomb Building: The Significance of Japanese Archaeology in a Comparative Perspective]. Also, Nojima provided two papers about: [The Origins and the Development of Graves with Burial Mounds in the Japanese Islands in the Yayoi Period] and [Iron and its Relation to Mounded Tombs on the Japanese Islands].
  On this occasion the WakoKu.eu, an online dictionary of archaeological terms in Japanese, German and English created by Werner Steinhaus was also presented and launched online. www.wakoku.eu.